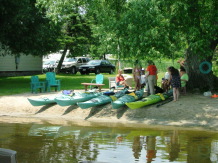 SEA KAYAKING IN THE 1000 ISLANDS
Note: Rentals are exclusive to Cottage Guests or Advance Reservations for the general public.
"Our goal is to introduce participants to sea kayaking by providing an exciting, challenging, and educational experience in one of the most beautiful waterways in the world"
Sea kayaking is fun and easy to learn! Escape from the stress of modern day life, relax, and enjoy the view while participating in one of the fastest growing recreational sports. We offer rentals, tours, and an island camping escort service. Rates for the current season are available.
Please don't confuse the sport of sea kayaking with river kayaking. Sea kayaks are much more stable than river kayaks or canoes. In fact, sea kayaks are not only stable but comfortable, very seaworthy and, due to their shallow draft and low profile, ideal for exploring coastlines.
Rentals
Kayak rentals include skirt, paddle and PFD (life jacket). Full Day rentals for individuals who will be camping on an island is based on 24 hours.
Bring your own kayak
Misty Isles offers the ideal location for kayaking. Within paddling minutes, you will be exploring the most attractive area of the 1000 Islands archipelago. We have ample parking at $5/day and a convenient sand beach to launch. We also can provide professional local knowledge, a map of the area and washroom and changing facilities for a minor cost.
No Experience Necessary
The skills necessary to paddle a sea kayak can be learned quickly and easily. A positive attitude and spirit of adventure are more important than being in great shape. No previous paddling experience is necessary!
Be Prepared
You'll want to dress for the weather by wearing light clothing, polarized sunglasses, and a hat. Appropriate footwear includes light soled running shoes or aqua socks. Consider bringing sunscreen, gloves, a water bottle, camera, and binoculars.